Elizabeth Sneddon Theatre: Durban, 9-12 March 2017
Following the success of his 2016 theatre tour, taking the experience of magic to audiences across the country, and recently returning from Las Vegas and Hollywood, magician extraordinaire Mo Magic is set to intrigue, astonish and entertain Durban audiences with his brand new theatre show titled "Moments of Wonder".
In this 90 minute interactive performance, Mo Magic takes the audience on a journey to the impossible with his world class magic, mystifying mentalism, incredible illusions and family friendly comedy.
Themed around the concept of wonder, he points out that we as humans experience "wonder" on a daily basis in different forms e.g. whilst watching movies, listening to music, spending time with loved ones and whilst watching the sun rise or set. He takes a number of these scenarios and creates magic with them, putting his own spin on them, and shares these moments of wonder with the audience. The magician does not want to give too much away and would rather the audience experience the magic for themselves in his latest theatre production.
Mo's passion for entertaining with the art of magic has attracted the attention of magicians worldwide. In February 2017, he was featured as the cover story for international magic mag-azine "VANISH", the world's largest magic magazine read by over 100 000 magicians worldwide . This is the first time a South African magician has been awarded the accolade. Other international magicians to be included on the cover include, Criss Angel, Uri Geller and Paul Daniels. When asked about his continued success, Mo says, "The art of magic has the ability to bring joy, delight and wonder and I am very thankful to entertain with through my presenta-tions and illusions. There is nothing else I'd rather do. It's one of the ways for me to contribute to the world and I love it!"
An honours degree graduate in electronic engineering, Mo resigned from a lucrative career as a project manager, in 2010, to pursue his passion for the art form. His prime hit TV series was very well received nationally and is currently being rebroadcasted by the SABC, weekly. When asked about his performance preference, the magician says "I love performing the art of magic on TV and live, however I believe that the audience enjoys the live experience more as they are present and are able to participate in the experience. TV audiences enjoy the show as an observer whereas in the theatre, members of the audience have the opportunity to join me on stage and participate in the magic."
"Moments of Wonder" will run from the 9-12 March 2016 at the Elizabeth Sneddon theatre (UKZN campus), then moves to the Hexagon theatre in Pietermaritzburg (UKZN) from the 30 March – 1 April. Mo's previous theatre productions ("Amazing You!" in 2012 and "Mo Magic" in 2016) were sell out successes and tickets for this run of "Moments of Wonder" are limited. Book your tickets early and be part of the magic. Tickets start from R100 and are available at Computicket, Shoprite & Checkers.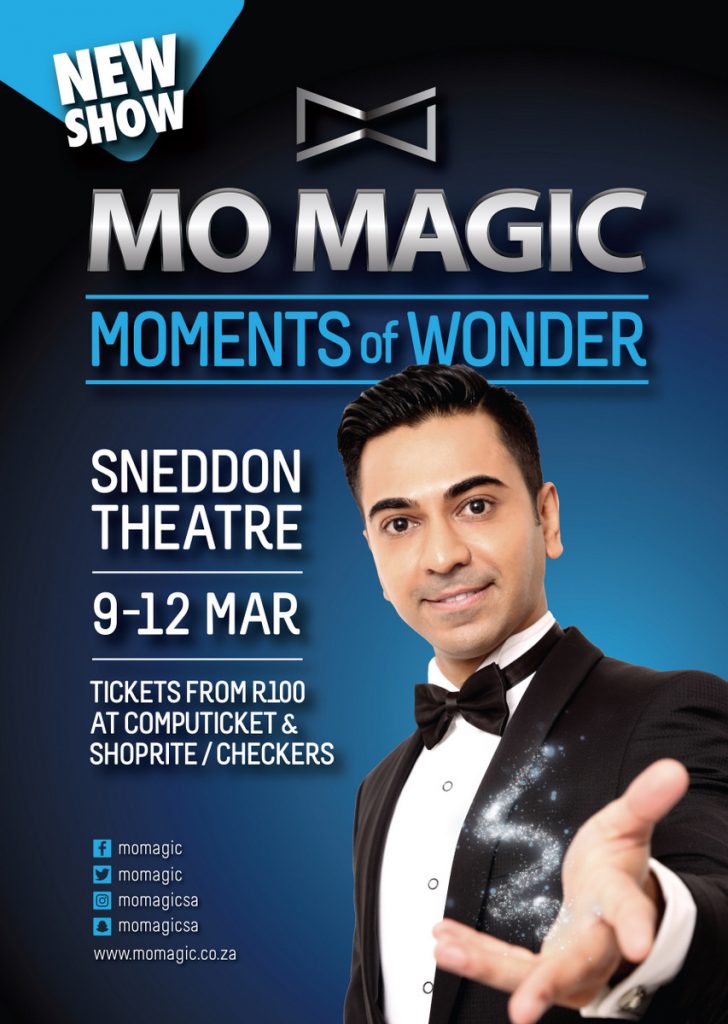 Performance Dates & Times: Thursday 9 Mar, Friday 10 Mar, Saturday 11 Feb: 8pm
Sunday 12 mar: 3pm (Matinee)
Running Time:                             1h30min
Tickets at Computicket:          R100, R120 & R140
No under 6s
No admittance after start of performance
Press & Show Queries:               bookings@momagic.co.za
Online link for bookings via Computicket: http://bit.ly/2kORjsB
Mo Magic
Web:                                     http://www.momagic.co.za
Facebook: Mo Magic        http://www.facebook.com/momagicfanpage1
Twitter: Mo Magic              http://www.twitter.com/momagic
Instagram: momagicsa   http://www.instagram.com/momagicsa