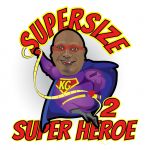 "SUPERSIZE TO SUPERHERO"

Mano Nayager is the president and founder of SUPER HEROES CHARITIES. He is also a celebrity comedian and a budding entrepreneur who hails from Effingham Heights in Durban – a well-known figure amongst the greater KZN community.
Mano has committed to losing 15 kg over a six-week period, doing what he does best – taking an opportunity to raise money for charity – by getting the public to sponsor every kilogram that he loses – the money raised is going to his selected charity,  Child  Welfare Durban & District , Edith Benson Babies Home. This is being done under strict supervision and guidance, with the help of his coach – Sue Rankin, which is achievable depending on a number of criteria that he adheres to on the strict diet.
Starting weight: 90kg
Time Frame: 6 weeks
Weight Goal: 75 kg
Fundraising Goal: R30, 000
Mano, being a community orientated man is relying on his weight loss to be a team effort with a "win win" situation and is looking to the public to get involved whether it be in the form of sponsoring rands per kilogram, pledges or advertising.
He gets his health, energy and vitality and the Edith Benson Babies Home gets the much needed funding to purchase items that will meet the needs of the children at the home.
"In the past, I was the biggest cheater when it came to dieting," says Mano, who has since given up fried foods and chocolate and walks every time he is on his phone – when asked … he explains to people what he was doing. "This time, I knew if I slipped up, I wouldn't just be cheating myself".
HOW YOU CAN ASSIST:
We are looking for sponsorship from the public in a number of ways:
To get involved by sponsoring Mano per kilogram – this can be done in denominations of R20/kg; R50/kg; R100/kg; R200/kg R500/kg and R1, 000/kg – you will be able to pledge online and funds will be deposited directly into the CHILD WELFARE Durban & District bank account using a refference number that can be otbained by contacting  the Superheroes Charities.
From there you can track Mano daily on Facebook hearing about his feelings, frustrations, comical comments and, ultimately, his loss. All sponsors will be loaded onto our Facebook page – SUPERHEROES CHARITIES
You can also benefit by sponsoring your services or product – for this you will be entitled to advertise on the Superheroes Charities Facebook page.
For more information, please contact:
Bryony Parr
Email: bryony.c.parr@gmail.com
Cell: 063 6219620
OR
Sue Rankin – Metabolic Menu
Super Heroes Secretary
Cell: 083 459 6090
Email:  suerankin21@gmail.com